By Adolf Ayoreka
The government of Uganda through National Coffee Research Institute (NaCoRI) under National Agriculture Research Organisation (NARO) has asked coffee farmers in south western Uganda to focus on alternative ways of using coffee through adding value rather than exporting green beans.
By doing so, it will increase domestic consumption of coffee products and help farmers to realize much income as opposed to selling it without adding value.
The call was made by Dr. Geoffrey Arinaitwe, the Director NaCoRI, during the inception meeting of the launch of a Research and Innovation for value addition, commercialization and industrialization project that is aiming at helping at supporting farmers on how to add value on their coffee at Mbarara zonal Agricultural Research and Development Institute (MBAZARD) in Mbarara City on Tuesday.
The project is intended to increase value added products for export and generating income with stabilizing prices on farm level. The launch of the project was attended by chairpersons of coffee cooperative unions, coffee traders and nursery bed operators.
"The prices of our coffee will not increase if we continue to export the green bean, which most of you call clean because we compete with countries like India, Vietnam, Ethiopia and Brazil which are all organized counties" Said Arinaitwe.
He added, "We have to find an alternative way of using coffee and that is adding value to coffee and we have to start drinking our own coffee. At the Institute we feel that if we can make research on multiple products from coffee like body cream, lip bum and Yoghurt this will increase on the domestic consumption"
Arinaitwe, said that President Museveni has instructed them that they have done all the research but have not taught farmers on commercialization and industrialization as stated in the National Development Plan III (NDP3) on agro industrialization hence launching the project.
Uganda apparently ranks number eight in the total production of coffee in the world but they hope that by the end of 2023, Uganda will have taken over Honduras and India to be in the sixth position and they expect to increase domestic consumption of coffee from 5% to 15%.
Dr.Godfrey Kagezi, Principal Research officer at NaCoRI said that the project is under Competitive Grant Scheme and that they are running another project of scaling out planting materials which are resistant to coffee wilt which is a major challenge to most coffee farmers.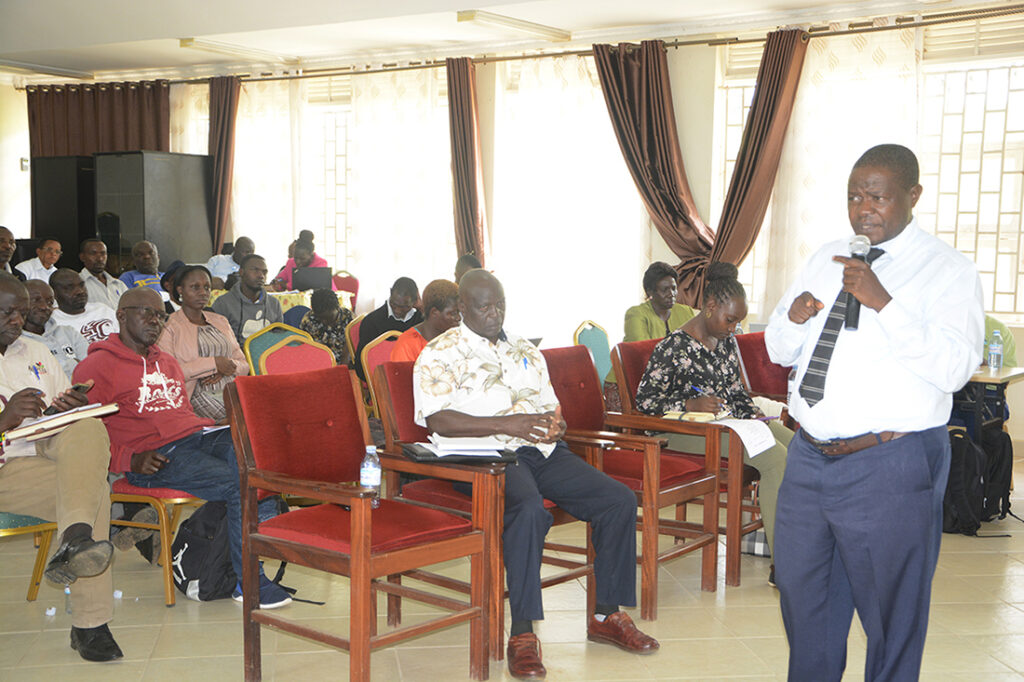 "Our farmers have been complaining that we develop technologies but remain on shelves, by implementing these projects we are trying to create more linkages between us and farmers through extensions and working with cooperative unions" said Kagezi.
Coffee wilt still a setback
Mathias Mujuni, Chairperson Coffee farmers Union from RwanyamahembeSub County in Mbarara district expressed his worry that the rate at which their coffee plantations are being attacked by coffee wilt is alarming and has greatly affected production.
"We call upon officials from NaCoRI to provide us with coffee seedlings which are highly resistant to pests and diseases so as to keep our coffee production high" Said Mujuni.
However Dr. Kagezi responded that coffee wilt is among the biggest challenges affecting coffee especially Robusta coffee and this can be wiped out through using community based approaches.
"We need to borrow a leaf from how NARO and Ministry of agriculture tried to contain banana bacterial wilt where local governments passed bylaws that were used to apprehend any errant farmer who was participating in the fight against BBW at the farm"
Coffee farmers hope that this project will enable them to learn how to add value to their coffee and be able to have alternative uses of coffee rather than exporting raw materials.