By Umar Nsubuga
Planting and spacing
Moses Kiptala, a commercial Irish Potato farmer with 20 years' experience says proper planting and spacing of Irish potatoes is very important.
He says make ridges of 15-30cm (6 inches -12 inches) high, spaced 2ft (60 cm) apart. Plant sprouted big-size healthy tubers spaced at 30cm (1ft) in rows.
The seed should be buried between 10-15cm deep and covered well with soil. In case of single rows, leave 2ft (60cm) cm to 3 ft. (90cm) apart, make double rows and leave a space of 6ft (180 cm) to the next row.
Care through growing cycle
Irrigate the field before planting in the hot season to allow a good rooting system. After planting, it takes about 14 days for the shoots to come to the surface.
If the soil fertility is not good, apply DAP at planting to boost root formation. Do scouting at 14 days to assess the level of germination.
At 21-25 days, the first weeding should be done. It shouldn't be very deep to avoid tampering with the rooting system.
If the soils are not good, apply NPK between 21-30 days to boost foliar formation. After applying NPK at 30 days, the second weeding should be done.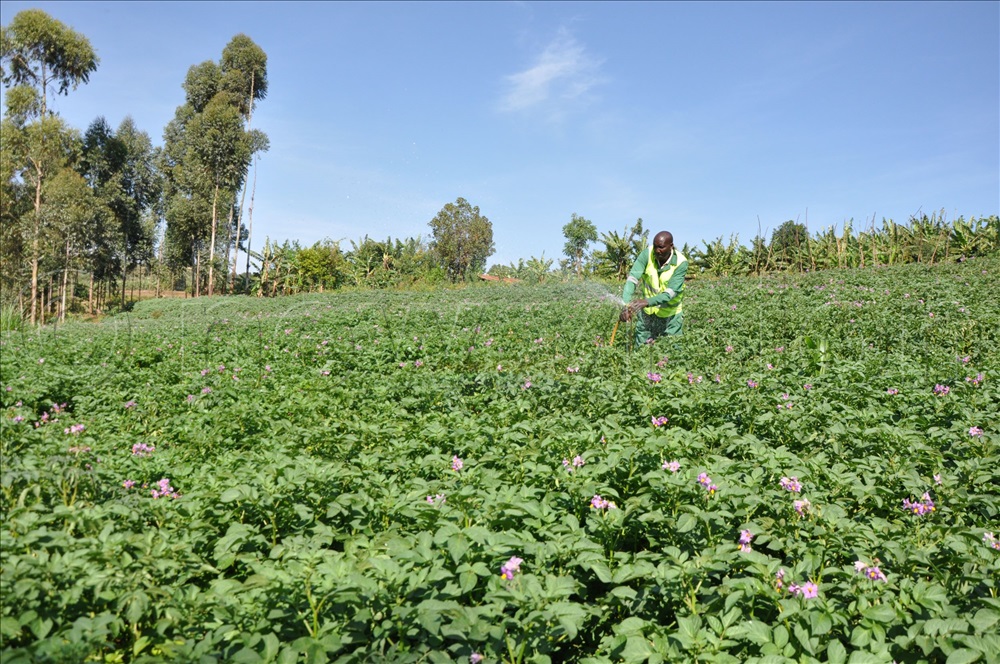 Heaping around the plant should also be done at this stage. Care should be taken when heaping to avoid damaging the roots and crops.
The heap shouldn't be very big. After heaping, focus should be put on maintenance, so irrigation should continue if it's a dry season.
At 40 days, the foliar cover is good, so the fields should have few weeds. Flowering normally starts at 60 days. This is an indication that tuber formation is taking place, so it is advisable to maintain good soil moisture to prevent pressure on tuber expansion.
Between 60-90 days, you can spray the field to control fungi and pests. But with good seed, there should not be cause for worry. At 90 days, the potatoes start wilting to show readiness.
When about half of the garden is in this form, it is an indication of maturity. In dry conditions and without rain, the tubers can stay safe underground for another 30 days.
Weeding
Weed control reduces yield loss due to competition for moisture, nutrients and light and at the same time acts as an alternate host for pests and diseases.
For this reason, weed when the crop is about 10 cm high and second weeding at 20 – 25 cm high. Early weeding is preferred to reduce contact between plants to avoid the spread of viruses such as potato virus.
Harvested weeds should not be thrown away, but rather put into ridges and covered with soil for additional manure. Cut the bushes around the garden to scare away pests, especially rats.