Sitting on one acre size of land Kana farm located 4km from fort portal town in Rwengaju village Burahya county Kabarole district earns Richard Nyakana 40 years to earn sh30m. Nyakana has on several occasions been commended by President Yoweri Museveni during his speeches for utilising a small piece of land to fight poverty.
The President refers to him as one of the farmers who effectively adopted the four acre model to practice commercial farming and earn at least sh20m per year.
Nyakana who holds a diploma in machine fitting started farming as a passion in 2012 with 500 layers in improvised structures after acquiring a loan of sh500,000 from a farmers group where he is a member known as Rwengaju model farmer's revolutionary association.
"I grew up watching people practice farming so when a group was formed to help improve farming in our area, I joined it," he says.
He says they started in 2012 as 60 farmers that were considered poor but with small piece of land and would save sh20,000 per month that they would borrow amongst selves and pay back at an affordable interest of lower than 10percent.
He now owns 3,000 layers, breed by Veerberk, Netherlands and gets 60 trays of eggs daily selling each at sh9,000. The birds are kept in clean structures. He then improved his poultry structures.
Nyakana employs 10 workers on the farm where 8 care for chicken and 2 for cattle which he pays sh100,000-sh150,000 per month.
Dairy Farming
In 2014, Nyakana started dairy farming with three cows on zero grazing where he uses artificial insemination with semen from Holland, USA and Canada at sh220,000 per straw. He uses about 4 straws per year. One mistake he initially made was depending on local AI agents for semen.
"I opted for a private service providers on the semen since government semen because I wanted superior breeds compared to what government insermitors have," he says.
Nyakana milks twice a day getting 40 litres in the morning at 6am and 40 litres at mid day making 80 litres. He saves 3litres for home use and sells the rest at sh1,000 per litre.
Feeding
According to Nyakana, he feeds his cows on locally grown pasture , fresh fodder, silage, elephant grass, Napier grass, legumes like Mukuna and calliandra , mineral supplements, salt and water each cow eats 100kgs of silage and 45ltrs of water daily. He is planning to start processing silage for the animals.
Treatment
Nyakana sprays periodically against ticks, flies and other parasites. "You should spray at least every after two months in order to keep off the parasites," he says.
He separates the sick birds from the normal ones to the sick bay for easy treatment.
Fruit growing
Nyakana also grows strawberries that he harvests every three weeks. He started growing the exotic fruits four years ago with less than 10 seedlings. He has since expanded. He uses them as flavour to make yoghurt and jam though he has not started mass production since he awaits standard confirmation by Uganda National Bureau of Standards.
"I trained in making yoghurt because I knew that one of the way a farmer practicing in small space can make money is to add value to what they produce," he says.
Two years ago, he also started growing apples with 30 trees. "The fruits are doing well and as I gain more experience, I will increase on the trees," he says.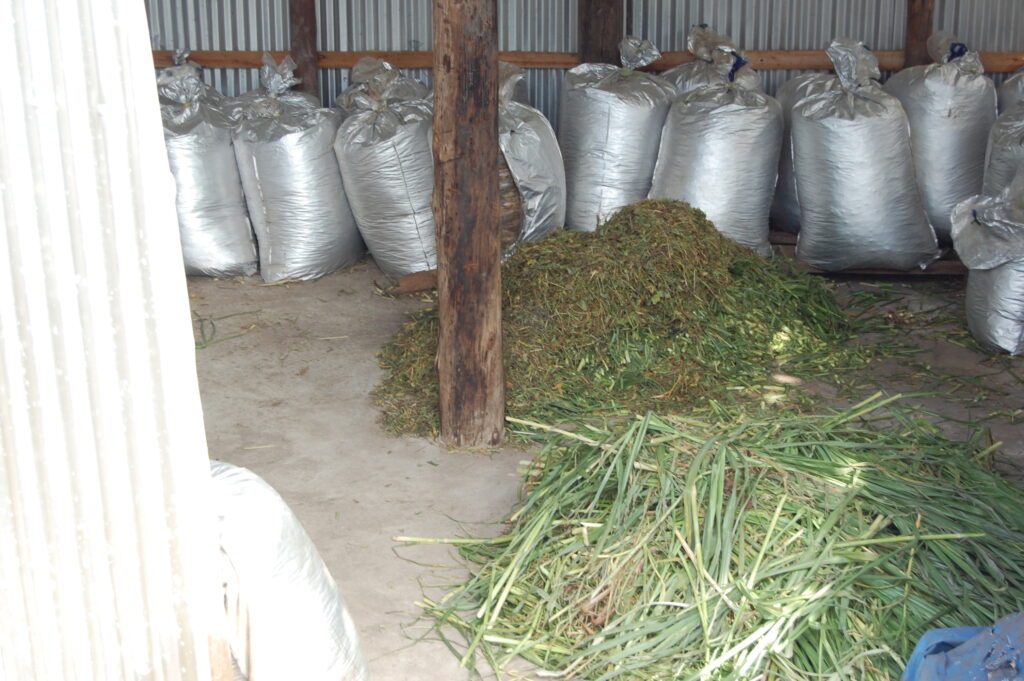 The different projects Nyakana runs on his one-acre farm
Matooke growing
In 2015 Nyakana introduced matooke growing after realizing that he has enough manure and there was ready market.
"I started with improved stalks that i got from my neighbours but today I have 130 suckers of bananas and can earn sh100,000-sh150,000 per month plus feeding my family and workers," he adds. 130 banana plants can produce at least 20 bunches per month.
Record Keeping
Richard says keeping his books is paramount if one is to run the farm effectively because it helps in knowing how to much they invest in and how much they earn.
"I do this myself since I am a manager at my farm and I make sure I write every activity done daily," he says.
Risk Management
Nyakana sold off 2,000 birds from 5,000 birds when the lockdown started in order to reduce on number of eggs he gets daily since their market had reduced like bakeries, chapatti stalls, supermarkets and local shops.
He says that they also hold management meetings as a family where they review records and development plan.
Richard also stocked a lot of food to feed both chicken and the cattle that can take long time even when the income is little.
Environment conservation
I use the cow dung corrected to make biogas that i use in my home to cook thus reducing on the electricity bill and conserve the environment since it doesn't bring out any smoke.
Chicken droppings are used as organic manure in the banana plantation and fruit gardens.
Post-harvest management and market
Nyakana says there has been ready market for his produce like eggs that are highly demanded by bakeries where Kidawalime bakery takes over 300 trays per a week, supermarkets a tray at sh9,000 each, local shops and homes.
He says the milk is sold to Tooro dairy at sh1,000 a litre and sells 80 litres daily.
Richard adds that though he had grown matooke for home consumption, he was forced to sell off some to Kitumba matooke market since they tend to ripen during dry season and each bunch is sold at sh15,000.
Value Addition
Nyakana has started making Jam from straw berries and yoghurt with berry flavour and has already taken samples to UNBS for satisfaction but will son hit the market.
Finance Accessibility
"I put my success to Rwengaju model farmers revolutionary association that issued me loan that I used to construct low standard structures for 500 birds on my acre of land and kept expanding until I graduated to 5000 birds using the income acquired from the farm," says Nyakana.
Sustainability
The family is fully involved in the farm work. His wife Mary Gorreti Karungi who holds a degree in Horticulture and a former lecturer at mountains of the moon university resigned and is now the farm's accountant and arketer while his child who is now in senior four helps in supervision at the new farm when in holidays.
Achievements
Nyakana has managed to buy 20 acres of land in Mbagane Kabarole district where he takes calves produced by the zero grazed cows, grows grass for the milked cows and rears local breed chicken.
HE says that he pays school fees for his son in a good standard school without hassle, bought another plot in the centre of fort portal town where he is constructing a commercial structure that will house a store for his products and also have bought 2 pick up trucks that he uses on the farm.
Community benefits
The farm is a model establishment in the area and indeed other farmers are learning from it. "Members of our farmers group use the farm to learn better practices," he says. He points out that the fact the President refers to him shows how far the farm has gone to improve the general community around it.
Plans
"I plan to raise the number of birds from 5,000 to 10,000 and I have already started collecting building materials to extend the buildings," he says.
Nyakana plans to add on more cows to six better breeds that give 30 litres and above from each. he adds that he will soon procure machines to add value to the eggs in making American Pie, mill feeder and acquire a bigger tank of water added to what he has that contains only 1000 litres of water and all machinery needed is approximated at sh50m.