By Andrew Masinde               
Crop diversification is one way of boosting land-use efficiency and crop output by improving the physical and chemical qualities of soil.
Crop diversification helps to alleviate problems such as renaissance of insects-pests and weeds, soil degradation, environmental pollution, soil salinity, declining farm profit and climate change.
It also helps farmers to have variety of products for food, incomes and for land protection. Helps financially by expanding the market potential and also the inclusion of a variety of crops, in some areas, can lead to the development of new agriculturally based economic potential of a rural community.
In Bududa district, various villages and households are practicing integration and diversification their enterprises.
For example, households grow different types of crops (cash crops and food crops), keep poultry, animals especially cattle, goats and sheep on zero grazing due to limited land.
Common crop enterprises grown at household level include; cassava, bananas, and vegetables like onions, cabbage which are planted in lines with recommended spacing.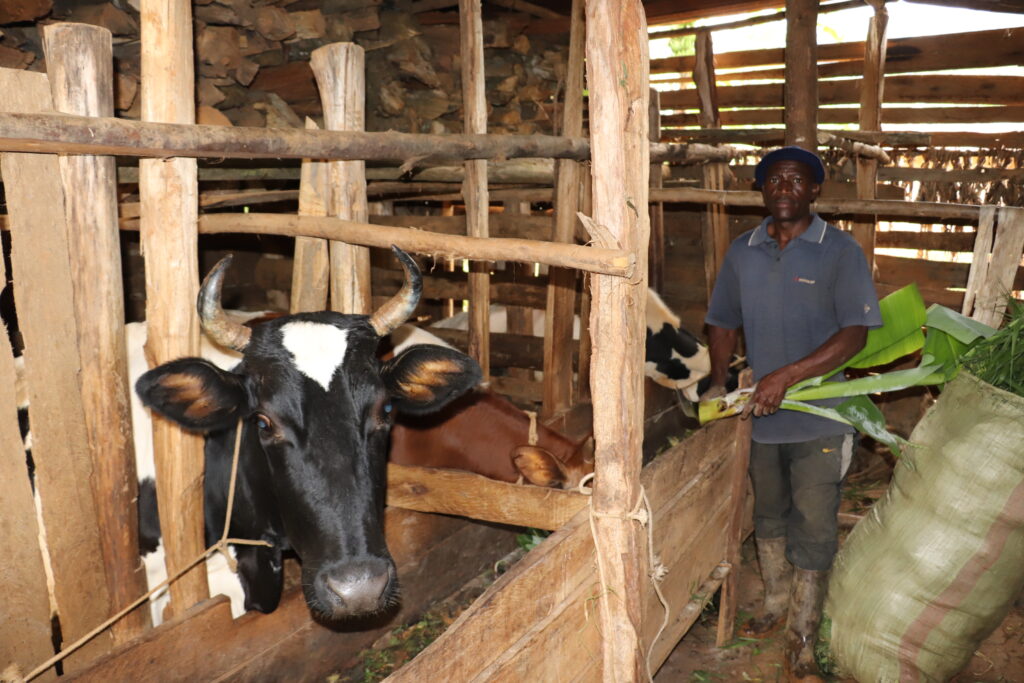 In addition, households use animal wastes (organic manure) in their gardens which has contributed to improved soil fertility which is key for resilient farming. Households have also adopted kitchen gardens as a way of improving family nutrition but also generating additional income.
Anthoney Mukonyi, a farmer from Mukunya village in Bunabutiti Subcounty is one of the farmers practicing farm diversification. He says that before, he was only growing crops and not integrating them with other enterprises.
However, he was trained by a group of experts from the Manafwa Watershed Restoration Project implemented by a consortium of five partners that include; Wageningen University, Makerere University, Kyambogo University, Africa 2000 Network Uganda and Tree Adoption Uganda.
Mukonyi explains that he was empowered to grow cash crops for money, grow food crops for food security and when in surplus they can also fetch money, have an animal that can feed the garden through animal wastes but also milk for nutrition, have a kitchen garden for vegetables and also plant trees for environmental protection among others.
"Today I have a cow, I have a coffee plantation, a banana plantation, a vegetable garden among others. My family has been transformed because of the different enterprises," he said.
Francis Matete, a farmer from Nangako town council says that because of diversification, he is able to now have enough food but also have cash crops for sale.
He revealed that before the training, he would just grow food crops and he would sell them hence having less food. But now he has coffee for cash as a cash crop, cows for purposely manure to his gardens and then has a banana plantation and other food crops for food.
Jesca Nabulo, another farmer, says that because of diversification, her life has changed. I have coffee, have a cow, and also have a banana plantation.