By Martin Kitubi
As oil and gas activities intensify, Ugandans have been tipped regarding the increasing demand for agricultural produce in the Albertine region. According to the projected demand for food starting July this year, oil workers in the region will need at least 690,000 eggs, 32,000kg of potatoes and 3,840kg of pineapples a month.
The workers will also need 12,800kg of rice, 2,560kg of mangoes and 6,400kg of onions. The Petroleum Authority of Uganda (PAU) compiled the food demand forecast. It is expected that in a few months, the oil and gas camps will host at least 5,000 workers at a go. The food forecast also indicates that the workers' camps will need 3,200kg of carrots, 6,400 bundles of spinach, 1,280kg of spring onions and thousands of tonnes of meat. The PAU also expects demand for other food and fruits to shoot up. The food chart also indicated that there will be demand for yeast, coriander, cauliflower, aubergine, spinach, broccoli, amaranth, spring onions and lettuce among others.
Speaking to New Vision at the three-day East African Petroleum Conference and Exhibition, Betty Namubiru, the PAU national content manager, said: "We have been talking about oil opportunities, and now they are here. We encourage Ugandans to take advantage of these opportunities."
The conference at Kampala Serena Hotel, which started on Tuesday and is expected to end today, attracted 1,000 industry players from the seven East African Community member states.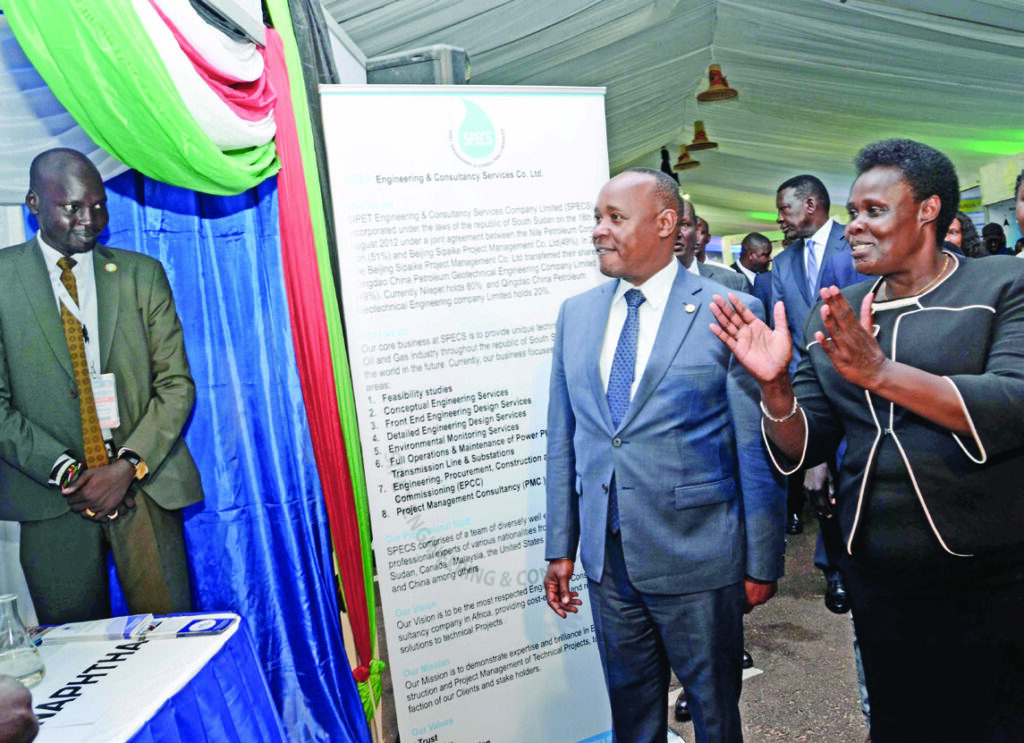 RESERVED FOR UGANDANS
Food supply is part of the 16 services the Government reserved for local companies, citizens and other locally registered entities in the oil and gas sector. The Local Content Policy ring-fenced transport, security, food and beverage, hotel management and catering services for Ugandans. Other areas include human resource management, office supplies, fuel supplies, land surveying, clearing and forwarding, locally available construction materials and civil works. Ugandans will also participate in the supply of locally available drilling and production materials, conduct environment and social impact studies, communications and information services and waste management. However, only entities or individuals registered on the National Suppliers Database (NSD) will be allowed to participate. The NSD is a web-based platform for regulating the procurement of goods and services in the oil and gas sector and is updated annually. The NSD is intended to provide an opportunity for a transparent and standardised supply chain for the oil and gas sector, which will in turn lead to increased competition and efficiency.
WHAT THE COUNTRY HAS DONE
Irene Bateebe, the permanent secretary of the energy ministry, indicated that the country was ready to manage the oil and gas sector better. She noted that the country was ensuring efficiency in licensing and that the production-sharing agreements signed by the oil companies were good. Regarding petroleum revenue management, Bateebe indicated that the country had put in place better fiscal policies which would ensure that the petroleum revenues were managed properly.
AWARD OF CONTRACTS
As the development stage of Uganda's oil and gas sector hits its peak, Ernest Rubondo, the PAU executive director, noted that more local companies will participate. He said oil and gas contracts worth $6b (about sh22.3 trillion) had been reviewed and awarded in the sector so far, since inception. Of these, contracts worth $1.7b (sh6.3 trillion, about 25%) have been awarded to local companies. Although it is still below the 40% national content target set by the Government, Rubondo explained that more contracts would go to local companies as the big players sub-contract.
"The petroleum industry has areas that require expertise which some of the local companies have not yet built and it explains this difference. But we expect tier-1 companies to sub-contract to tier-2 and tier-3 entities where most of our companies have capacity.
"Therefore, as tier-1 companies sub-contract, we will have more local companies participating," he said.