By Umar Nsubuga
Ruta Sebastian Ngambwa does not look like your traditional farmer. He owns a car and looks every inch a corporate man. The 40-year-old is the director of Prime Agro Uganda Limited, in Luwero district. He keeps over 250 head of cattle as well as growing bananas and maize on his 150-acre farm
Even when he had a salaried job as marketing officer with a big company, Ngambwa`s dream was to become a self-employed man. In 2007, he took the bold decision to leave office work and get his own business.
"When I set upon to start this farm, I wanted to give my animals the best, although ultimately, they would be slaughtered," he says.
Ngambwa's farm is aesthetically designed, clean and highly combined and many people to learn. It is mechanised with two tractors, planters, silage, disc hallows, choppers, maize mill, slashers, hay miller, boom sprayer and grass collector.
To ease transportation, he has two trucks and a van. Regarding livestock, there are more than 250 dairy cows raised in a highly intensive system with such impeccable hygiene that there is no foul odour.
Ngambwa offers free consultancy to farmers who live near his farm, Ali Wasswa a local leader and resident says this has helped residents to improve the quality of the animals they breed.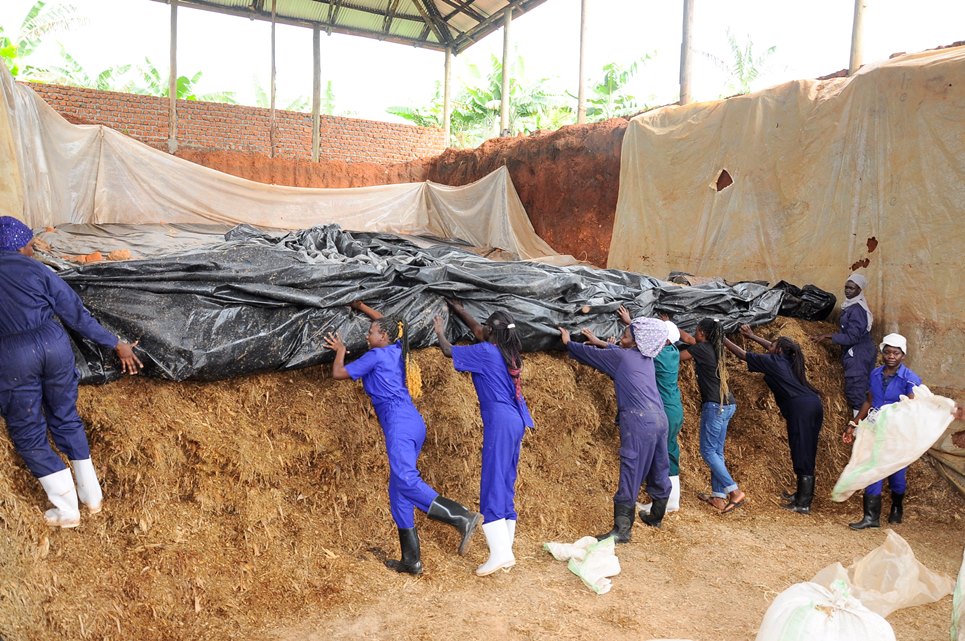 How he started
Ngambwa's entrepreneurial journey started in 2004, with poultry which were layers and he started with 200 on one acre of land.
Meanwhile, while still a university student from 2000-2004, he used to retail milk in his neighbourhood in Ntinda and Kigoowa and he was buying urban farmers.
"After university, I worked with a media house in Kampala as a relationship officer, but my passion lay in farming. And, much as I had started with poultry, my real love was in cattle production. I had come to appreciate as a young boy who was educated with proceeds my father got from selling cattle and milk back in the home village in Ntungamo district," he says.
Having raised some money from a friend who wanted to buy land, in the zirobwe he got some commission and he also had some savings from the milk business Ngambwa purchased 25 acres of land in Zirobwe, Luwero district in 2009 so he could pursue his livestock farming dream. He started out with nine cross-breed dairy cows. Initially, was a demo farm called Zirobwe Demonstration Farm (ZIDEFA), farm name.
In 2008, I started Prime Agro Farms Uganda Ltd as a family business and has since evolved into fully-fledged, modern farm enterprise limited liability company. The farm sits on over 250 acres of land and he estimates he spent over sh200m setting up the enterprise.
According to Ngambwa, 100 acres are dedicated to silage production. Part of the silage is fed to his cattle, with the rest sold to other farmers. He says there are so far 50 other clients for silage.
The farm also trains other farmers how to make animal feeds.
Ngambwa says the farm has also been able to forge healthy working relationships with other agricultural institutions. "The model livestock production centre engages in dairy farming, silage making, farm management, agribusiness and breeding".
The farm invests in knowledge acquisition and this has seen Ngambwa, the proprietor, attend on-farm trainings and tours in Kenya and Israel. The workforce, especially at managerial level, is comprised of professionals in agriculture, which explains why the farm has been successful thus far.
Dairy Section
The farm has over 250 head of cattle of friesian and jersey breeds that are reared under a highly-intensive system, where the animals are fed on silage and also do open grazing. The farm's daily milk production ranges between 300 and 600 litres.
Ngambwa says his milk is sold through the farm's dairy centres located in Zirobwe Town Council, Busika, Gayaza and Kasangati at sh1,500-sh2,000 per litre depending on the season.
Under the breeding arm, the farm sells high quality heifers and in-calf cows to other farmers at a subsidised price but this depends on the age and size.
Regarding the structures, the calves are kept in a well-covered shelter, complete with cattle mattresses and resting zones. The shelter has a concrete floor and was constructed using poles and roofed with a tarpaulin.
The milking area has metallic bars and an iron sheet roof and has a four-point milking machine for a quality product. The milking unit is fully equipped, with two vacuum milk units and there are collection centres linked to the cooler, feeding units and resting shed. All units are cleaned twice a day.
To ensure they are fed well, the cows are given silage and hay, especially during the dry season, as well as nutrient feed blocks. He explains that maize silage has 30-50% higher nutritive value compared to grain and straw. Ngambwa maintains a 10,000-tonne silage bunker. He says the silage can feed the cows for about a year. He produces the silage from about 100 acres of maize every season. The excess maize is sold with part of it as food for the workforce.
On why he took extra care with the construction of the shelters, amenities like cattle mattresses and ensuring a steady supply of feed, Ngambwa explains that the amount of comfort a farmer gives a cow is replicated in the amount of milk it produces.
Given that cows need plenty of water, Ngambwa has invested in two big water reservoirs which are over 20, 000 litres and a borehole.
The most expensive equipment on the farm are the two tractors, which one he uses to till his maize garden.
He has ventured into value addition and produces ghee, the quantities depends and he sells them to his dairy centres, with plans to scale up into other products like yoghurt, among others.
Silage production
Ngambwa, says silage making is simple depending on the type of silo you intend to use.
He gives examples of tower silos, bunker silos, bag silos and silage piles. "Assuming you want to prepare silage in a pit, dig it and spread polythene sheets on the floor and walls," he advises.
The fermentation in silage, Ngambwa explains, reduces harmful nitrates accumulated in plants during droughts. He adds that the maize used to make silage is not rotten as well as free of aflatoxins and other impurities.
"After harvesting the maize fodder, it is chopped in one-inch-long pieces then spread into the pit to about 15cm high," Ngambwa explains.
Before the maize in the field is harvested, it must attain certain attributes to meet nutritional requirements for dairy cows.
Ngambwa says preparing silage using the corn crusher enables him to get the right size of the feeds that don't cause problems to the cattle during feeding and digestion.
"Once crushed, the feed is transported by a tractor to the location where it is spread on plastic sheets for compaction," he explains.
Ngambwa also says they get at least 18 tonnes of silage from each acre, which is equivalent to 31 bags per acre of commercial maize.
We place silage on top of dry wheat straw; Silage is produced through the use of pits or trenches, towers and sacks for small quantities. However, pits are mostly used to prepare silage for large dairy units. The silage pits are located at a place safe from rodents.
Banana shamba
Ngambwa's banana shamba sits on six acres and he sells over 20-30 bunches of matooke every three weeks, he sells them in Zirobwe, Gayaza, Mpererwe, Kalerwe markets. "I sell them between sh10,000 and sh15,000, sometimes sh15,000 and sh20,000".
He grows nakabululu and muvubo, which are cooking bananas. These are the varieties that have been grown in the areas for many years. The fourth acre has just started flowering.
However, the innovation that he uses makes the banana shamba stand out. To boost production on the banana plantation, he has a compost manure pit and also mulches the plantation.
"Mulching for bananas is a must because; it maintains soil moisture," he says. He uses materials such as dry grass, banana leaves, maize stovers and coffee husks.
He says if well practiced, mulching is one of the most efficient ways of protecting the soil, improving its fertility and keeping weeds at bay.
Industrial (internship) training
The farm administration has memoranda of understanding with various agricultural institutions such as Bukalasa Agricultural College, Ssese Farm Institute, Makerere University's Afrisa, as well as many farmers to offer practical-based on-farm training and certificates in livestock production, as well other short courses in agriculture-related fields such as agricultural dairy technologist, animal production and management course among others.
Corporate Social Responsibility
Ngambwa says his farm maintains all the feeder roads surrounding the farm, which has eased transport in the community. "The farm occasionally organises free trainings on dairy production and silage making for interested farmers in the community", he explains.
Part of the maize used in silage production is sourced from out-growers, which Ngambwa says, is purchased at competitive market prices.
"My farm has empowered the community leaders by providing them improved cattle breeding either at subsidised prices or for free."
Harriet Kyamulibi, a resident of Janda, a nearby village says Ngambwa pays school fees for his employees' children. According to Ngambwa he started a scholarship scheme to support vulnerable children in the community, and so far, he has helped 30 children.
She also says he employs organised women groups on the farm to work on hay, dig banana plantation, to do farm cleaning among others and supports youth activities like talents, buy balls which has improved livelihoods in the community.
Richard Kavuma a child friend to Ngambwa says he is involved in charity, has roofed churches and gifted others with heifers. Gerald Kawuma a resident and a church singer says Ngambwa bought gifted Christ Centred Church three acres of land.
Workforce and expenses
Ngambwa has a workforce of 30 permanent employees and over 40 casual labourers depending on the daily work at hand, ranging from garden preparation, weeding and harvesting, among others.
A conservative evaluation of Ngambwa he commits almost sh10m every month on basic farm expenses ranging from procuring livestock supplements and treatment of the animals. Dairy feed supplements silage, hay and feeding blocks. "There is also a weekly visit by a veterinary officer either to treat or look at the animals," he says.
He pays them between sh50,000-sh100,000 depending on what he does at the farm.
In addition, he has a wage bill to the 30 workers is sh7.5m He pays each of them between sh250,000-350,000 per month in addition to giving some of them housing and food.
The casual workers are paid according to the work done.
On average, the farm receives around 500litres of milk per day. At sh1,000 each, this brings in around sh500,000 per day or sh15m per month. It is from these moderate earnings that Ngambwa picks around sh7.5m to pay the wages of his workers and money to pay for fuel for the tractor and veterinary officer who visits the farm; it's about sh1m to sh2m.
Bookkeeping
Book keeping is done at all levels and different sections. "We keep separate records for each of the enterprises on the farm. For example, dairy unit records are kept separately from bananas," he says.
These records cut across the human resource management system on the farm. "We pay workers money in terms of salaries and allowances on the farm. We keep proper records of this so that we know whether we are making profits or not," he says.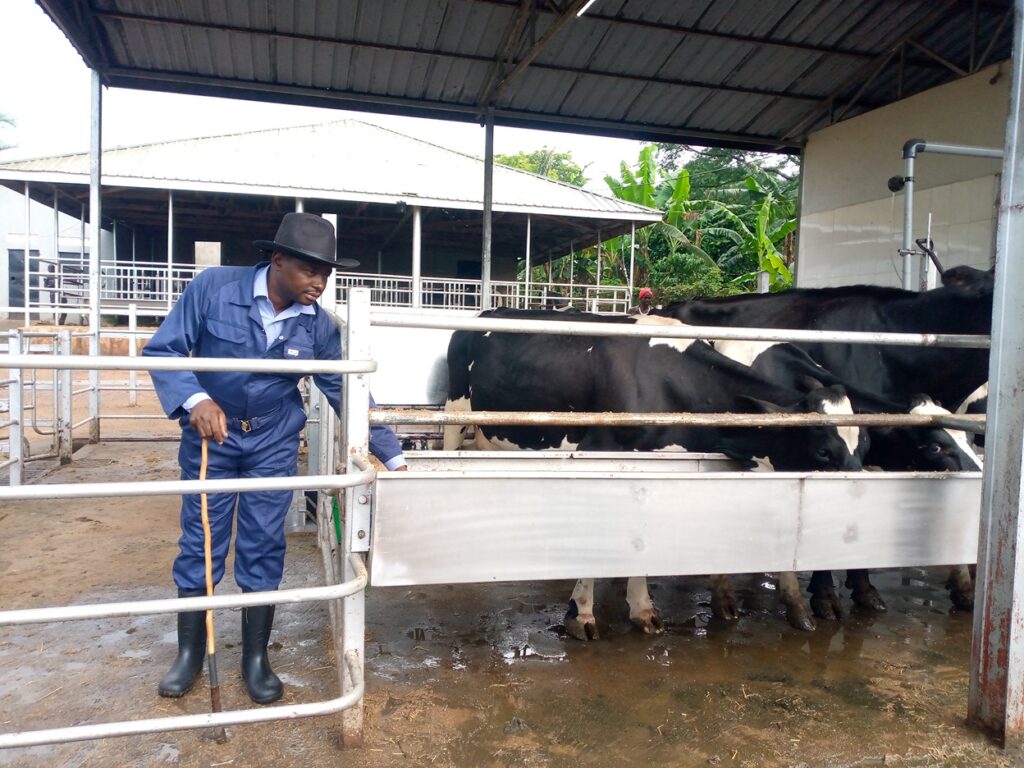 Advice to farmers
Ngambwa says the success of a dairy farm lies in the hands of its manager who has the passion for it and clearly understands its vision.
"As a manager you must physically be on the farm daily. Do not be afraid to get your hands dirty" he said.
He also advised farmers to seek experts and to learn from other people's mistake.
"Any successful farmer should not be proud or embarrassed to fail," he stated.
Courage, passion and determination are key in animal production, since the animals need a lot of attention and care to prevent infections, which he has successfully done.
His achievements
Apart from providing tuition for the children, driving expensive cars, and employing a number of people, I also acquired two Fuso trucks that have since been disposed of.
The family has also been able to construct a good home and acquire six more acres of land.
"Looking back, I do not regret choosing this path of not joining the corporate world. If anything, no employer could pay me even a quarter of what my family earns from this project," observes Ngambwa.
Challenges
Price fluctuations, which affect the farm's income-flow and affects the smooth running of the projects is one of the challenges Ngambwa says he faces.
There are also high maintenance costs for the machinery and other farm infrastructure.
No electricity at my farm, Costly and Irregular power supply since the farm is currently powered by a generator is one of Ngambwa's challenges.
He says access to credit is hard because of high lending rate in Uganda's commercial banks and lack of an agricultural bank.
Annet Natukunda, Ngambwa's wife says the farm still has a low capacity to breed and produce enough milk in spite of the high demand for the products on the market.
She says the community is a bit naïve and hard to cooperate with, which seldom brings issues of illegal occupants and squatters. This in some way has affected the expansion plans for the farm.
Plans
Ngambwa says he plans to expand the training programme and arena so that Prime Agro Farms becomes a one-stop centre for all livestock production solutions.
He also plans to engage in more value addition activities for farm products, establish a fattening lot that can accommodate up to 4,000 cattle.
According to Ngambwa, he plans to expand the breeding programme to be able to produce more high-yielding and resistant cows for sale to other farmers.
He wants to start an agribusiness consultancy, Initiate a special training programme for youth from as young as 10 years. "To achieve this, we shall set up modern hostel and leisure facilities so that the children get an all-round experience at the farm", he explains.
He also has a dream of transforming Prime Agro Farms Uganda Ltd into one of the best agri-tourism centres in Uganda and regionally.
He has embraced technology and intends to make the farm a research centre for local farmers and students who come for internships.
Why I choose farming
From childhood I didn't believe to have one job, and I had realised that with farming you can't go wrong, that's why I recommend trying out many ventures because if one fails the other can bail a farmer out.
"Farming is a kind work where you involve your family, even when you die, your family can have food.
He says there is need to create a strong relationship with your neighbours because they can either support or fail you. And before I started, I had done enough research because when I was at university milk business was my training card.
What people say
Annet Natukunda, wife
This is a good demonstration to especially the youths who are abandoning their huge chunks of land to do boda boda business in town. I appeal to them to use their family lands profitably.
Phillip Kiiza, first year diploma student, Bukalasa Agricultural College
I have enjoyed the experience at Prime Agro Farms, especially because everything here is hands-on.
I have learnt new skills in milking using machines, raising calves, feeding and injecting animals, as well as in general farm management and agronomy. The trainers are professional and very knowledgeable, which has helped solidify my skills in farming.
Ritah Ililo, first year diploma student, Bukalasa Agricultural College
Spending a month on this on-farm internship has been such an enriching experience since it has given me an opportunity to put into practice everything we have been studying in class. I am now conversant with farm operations such as milking, weed management, silage making, dehorning, castration, carrying out a post-mortem examination, pasture establishment, paddocking, to mention but a few. I encourage more youth and farmers in general to embrace such trainings because besides creating job opportunities, they empower one to become a better farmer.
Elisam Nuwamanya, milking parlour manager
I have been employed on this farm for about five (5) years. Compared to when I started, I can confidently say I am now more skilled in livestock production because I have learnt on the job. I am grateful that from my salary, I have been able to buy some goats and other animals back in the village. I appreciate the management for paying us well and in time, and for providing us free housing and meals.