By Umar Nsubuga
Before you plant sunflower, you must study the site/type of soil where you are going to plant it and always avoid swamps and water-logged areas.
Christine Akello, a resident of Aduku village in Kwania district and a sunflower farmer says it can be inter-planted with food crops which also reduces expenditure on food and also saves money.
She says seed selection is very important in sunflower growing.
Commercial farmers normally plant sun fora and pana varieties which grow fast hence harvesting very good sunflower seeds.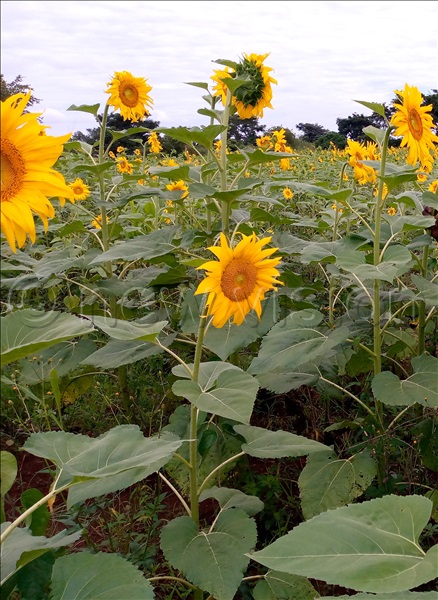 Gideon Zakke, an agronomist says poorly prepared land affects the sunflower's growth and flowering leading to a poor harvest.
He says a good sunflower seed is hard and when crushed produces good oil and sunflower cake.
Weeding and harvesting are vital in sunflower growing. Spraying and applying fertilisers is necessary if the land is prepared well and the right seed is planted.
Sunflower seeds once processed or crushed, produce sunflower cake which is used by poultry farmers in mixing poultry feeds.
Sun­flower products
Sunflower seeds are used to make cooking oil, fuel (bio-diesel) animal feeds, paint, medicine and snacks.
They have lots of calcium and 11 other important minerals. They have 50% fat, but it is mostly polyunsaturated linoleic acid.
Sunflower seeds are rich in oil, which they store as a source of energy and food. The seeds are crushed to give us oil for cooking.
It is also used as biodiesel or a vegetable oil-based fuel used for running many vehicles, including farming equipment.
Biodiesel extracted from sunflower burns 75% cleaner than petroleum-based diesel. It is highly lubricating, reducing wear and tear on engine parts.
It requires no engine modifications to be used, and can even be mixed with petroleum-based fuels.
The by-product of biodiesel is glycerin, which can be used in the manufacture of soap or hundreds of other products.
One of the most beneficial uses of sunflowers is in the removal of toxic waste from the environment. Utilising an emerging technology called rhizofiltration, hydroponically grown plants are grown floating over the water.
Possessing extensive root systems, they can reach deep into sources of polluted water and extract large amounts of toxic metals, including uranium.
Sunflower farmers play an important role in the world economy and the oncoming oil crisis may determine further importance of sunflower farmers if petroleum product alternatives are more fully researched.